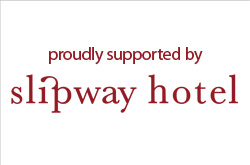 As Saunders Oval is closed, we have managed to book the Hockey Fields for one hour tonight starting at 6pm. Please be there as close to 6pm as possible so we can get as much training in as possible.
I should also make you aware that The Slipway Hotel is a major sponsor of the Ballina Soccer Club this season, and their sponsorship money helps to pay for the wet weather training sessions. Without this support, we would most likely not have a place to train.
To show thanks for our sponsors generosity (and to ensure that they continue to support us) make sure you drop in for a meal and a drink as often as possible.
As the season progresses, we will be giving away match day prizes for the best performances, so getting as many people to turn up as possible will ensure an enjoyable evening for all members and supporters.
But in the meantime remember – Hockey Fields tonight 6pm sharp!